Born in 1950 at Klang, Selangor, Malaysia.
Full-Time Fine Art Artist and Cartoonist.

Paintings are widely and constantly collected by private/corporate collectors both local and abroad.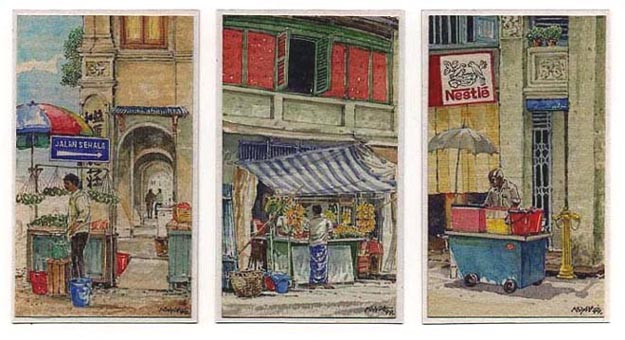 WORDS NOT FROM MY BRUSH

I dreamt to be an artist when I was a child. In 1963, when I entered high school, I was greatly inspired by my first and ever art teacher, the late Mr. Tan Kim Sar and it was then that I decided to become a serious artist.

Consistently since, I carried on painting in oils, watercolor, pastels, ink, collage, mixed media, printmaking, woodcarving, etc. and completed a large number of outdoor sketches and a variety of artworks. My subjects covered various themes like busy streets, rural life and waterfronts.

In 1985, after being nurtured for 15 years in the highly creative, intension and colorful world of advertising, I decided to become a full time fine art artist.

Thirty years ago, I began to concentrate on old and historical buildings; previously, as my works from 1969 and 1980 show, my focus was on the busy street scenes and the shophouses were but mere backdrops. These amateur works have, however, become part of my precious personal collection.

Malaysia is a paradise for artists as her beauty and wealth provide endless sources of inspiration for painters. To me, the colonial architecture and the rustic shophouses in towns and the rural areas are fascinating subjects. With progress and development they are fast disappearing.

I also have a special love for the traditional trades like old provision stalls, coffee shops, roadside bookstands and backlane food corners. For sentimental reasons, bicycles and tricycles/trishaws also occupy a major portion of my paintings. These vehicles carried me to and fro from school during my childhood and I treat these subjects with a sense of nostalgia.

Besides traditional watercolor paper, I like to use paper with different texture and colors for example brown paper, fancy colored paper, handmade paper, etc. because I wish to emphasize and enrich the texture of the general appearance of the painting and to deliberately create a sense of antiquity in my work. This style has now become characteristic of my watercolors.

Pointillism is another distinctive character of my watercolors. Ever since I first rediscovered this unique technique in 1989, I use it constantly in my works especially on trees and greenery sometimes even apply to the entire painting to give a different perception, mostly on painting scenery of nature.

I have, for more than thirty years, continuously participated in numerous group and invitational exhibitions both in Malaysia and abroad. And I have had nine solo exhibitions since 1991 to 2004. Besides, I have had commissioned to do three sketchbook books: 'Kuala Lumpur Sketchbook' in 1998, 'Penang Sketchbook' in 2001 and 'Landmarks of Selangor' in 2003 commissioned by HRH Sultan of Selangor, Malaysia. The Latest publication is 'Landmarks of Perak' in 2006 commissioned by the Raja Muda od Perak, Malaysia.

Most of my works are related mainly to the rustic, noisy, yet colorful and exciting environment which I grew up in. They are now fading away as we approach the twenty-first century. I hope that my works can serve as a form of social documentation for this fast changing world. They may help us remember the past, to appreciate the present, and to look forward to the future.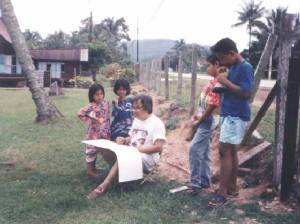 Outdoor sketching at a roadside Malay's village






PROFESSIONAL EXPERIENCE

1969-1985 > Active Cartoonist of Three Major Chinese Press in West Malaysia.

1970-1984 > Worked as Senior Visualizer, Art Director for leading Advertising firms in KL & PJ.

1973 > Study Tour for Graphic Design in the Lion Dentifrice Co., Art Div., Shiba Productions & Orion Sha, Tokyo, Japan.

1976-1991> Children Art Instructor of Sunday Art Studio, PJ, Selangor.

1979 > Co-organizer of Pentel M'sia Children Outdoor Art Competition, KL, M'sia.

1979-1983 > Freelance Graphic Designer, Cartoonist and Illustrator for Sin Chew Jit Poh Feature Column, M'sia.

1980 > Painting trip to Thailand, Hong Kong, Taiwan, Japan.

1983 > Appointed to design the Malaysian Watercolor Society's Logo.

1983-1986 > Guest Writer of Taiwan "Artists" Magazine and Hsiung Shih Art Monthly

1983-1986 > Guest Writer of Hong Kong "Artist" Bi-monthly Magazine.

1985 > Full-Time Artist and Freelance Graphic Designer.

1988 > Appointed to design the Asian Watercolor Confederation's Logo.

1990 > Part time Graphic Design Lecturer in one of the local art academy in PJ, S'gor.

1992-2006 > Appointed Art Examiner and Assessor of the United Chinese School Committees' Association of Malaysia.

1993 > Appointed to design the Malaysian Watercolor Organization's Logo.

1995 > Invited Judge of the Guang Ming Daily Cartoon Competition, PJ, S'gor.

1995 > Invited Judge of the 1st Fine Arts Photographic Competition of Secondary Schools in Malaysia, Klang, S'gor.

1995-1997 > Appointed Art Columnist of Nanyang Siang Pau Feature, M'sia.

1995-2000 > Invited Judge of the Pentel M'sia International Children Art Competitions, KL.

1996-2000 > Appointed compiler and writer by the United Chinese School Committees' Assoction of Malaysia for Art Textbooks used by private Chinese High Schools on Chapters of Illustrations, Cartoons, Commercial Image System, basic design, pattern and card design.

1998 > Co-organiser of "The Outside World '98" Art Exhibition, 3-26 January, Historical Pudu Prison, Jalan Hang Tuah, KL.

1998 > Co-curator of "Footprints - Line of Continuity" Art Exhibition, 28 March-11 April, KL.

1998 > Coordinator of "Warna-warna Malaysia" Art Exhibition, 22 August-22 September, Carter Art-related Gallery, KL.

1998-2007 > Appointed to design (including selection of artists) the yearly table calender for BUNCHO (M) Sdn Bhd, Klang, M'sia.

1999 > Invited Judge of "Mother's Day" Children Art Competition, 3 May 1999, organised by New Strait Time and Sheraton Hotel, Sheraton Hotel, KL.

1999 > Invited judge of "National Day " Nationwide Children Art competition, 3 Sept, sponsored by Buncho Malaysia, organised by Nanyang Siang Pao, M'sia.

2000 > Talk and book autograph sessions of Making KL Sketchbook to groups of members from Malaysia Cultural Group, American Association of Malaysia, MANZA, Malaysia Australia New Zealand Association, organised by The Private Gallery, PJ, Selangor.

2001 > Invited Judge of "International Friendships 2001" Children Art Competition, organised by Metro Fine Art.
2002 > One of the appointed external advisor of Art & Design Department, New Era College, Kajang, Selangor, Malaysia.
2004-2005 > Guest Cartoonist of Nanyang Siang Pao Daily Forum, Malaysia.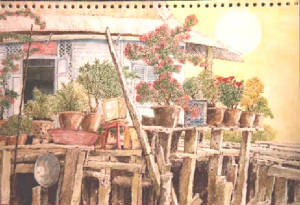 Green Decoration - 1996 - 26.5x36.5cm (Private collection)