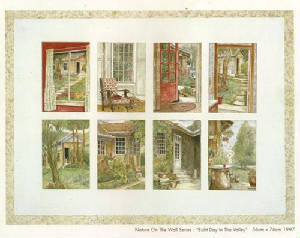 Eight days in the Valley, Cameron Highlands (Petronas Gallery Collection)
If you take a walk up the hills of Cameron Highlands, you'll realise that there are more than just tea plantations in sight. Solitary units of bungalows scatter throughout the hills, standing tall against the test of time.

It is my wish to capture the impressions that the bungalow makes. Therefore, I decided to paint a bungalow from a combination of inside and outside views; which gave birth to "Eight Days In The Valley". Instead of looking at the paintings, try looking through it, to feel and to experience an artist's point of view. In general, the architecture and interior of the building reminds us much of colonial influences. Yet, amidst the European style lies a distinct Malaysian touch - her tropical greenery and floras in abundance. In this, I have chosen to depict the greens as expressive as possible. It's a painstaking process of very fine strokes - "Pointillism", painting plants and trees leaf by leaf, clover by clover.

With the high-rising sky-scrapers of the metropolis, city dwellers will find much comfort in nature. A haven like this provides solitude and serenity to both mind and soul. Hence, conservation of nature is essential. I sincerely hope that, through the paintings, people will treasure the environment, a pristine and priceless heritage for all. In an effort to immortalise the beauty of our homeland, I present you the "Nature On The Wall Series - Eight Days In The Valley".